I assure you that Pre wedding photoshoot for your marriage are crucial and important
Published on: December 16, 2022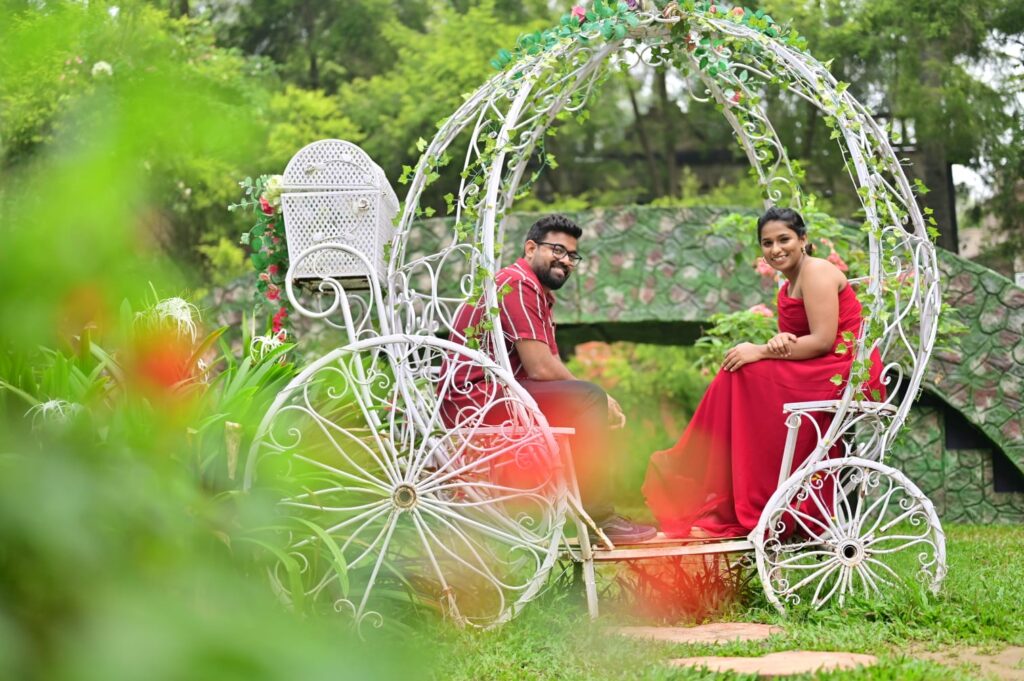 Dimple, one of our cherished clients, wore a "One-Shoulder Western Gown with Pleats and a One-Shoulder Flower Motif"  for her Pre wedding photo shoot session. These clothes were particularly created by us for pre-wedding photography. Dimple seems very beautiful and appreciative in every picture. A very joyful marriage is what Shrusara Fashion Boutique wishes for Dimple & Rakesh. Best wishes for them on their special day and as they begin a new chapter in their relationship.
Let us understand what is pre wedding shoot is all about :
Dresses for Pre wedding shoot and Pre-wedding photography enables the couple to become well acquainted. You are not required to pose. Photographers at the pre-wedding session aim to capture the couple's genuine expressions, candid moments, and feelings. Your album becomes more colorful with these photos.
Pre wedding photos sound glamorous and many couples believe it to be both unneeded and expensive. A pre-wedding picture shoot, however, has a lot of benefits that will be beneficial to you. The following are some of the main advantages of selecting a pre wedding photoshoot.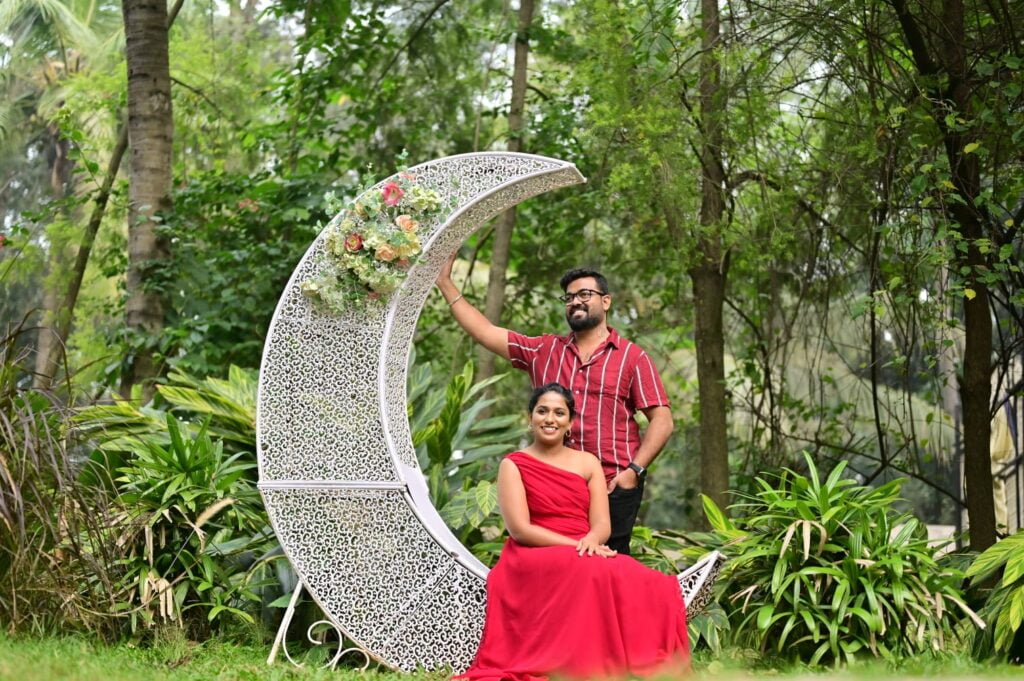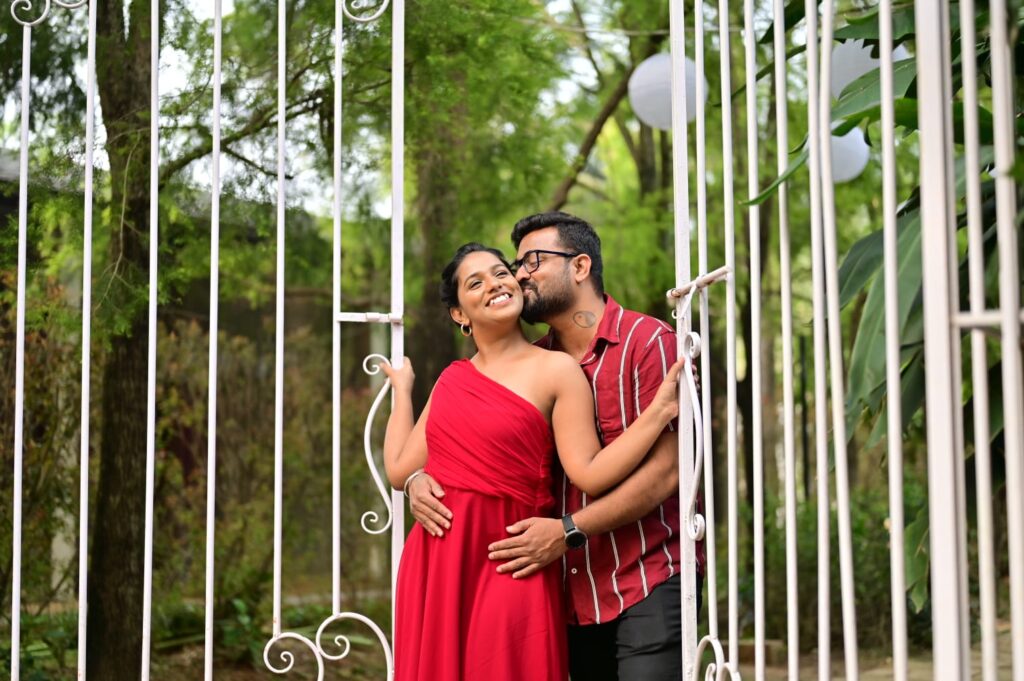 This promotes communication between you and your photographer:
Modern wedding photography involves more than just smiling and posing. Unlike in the past, photographers are now thinking of creative ways to create the ideal wedding album. You should choose your photographer well in advance if you decide to have a pre-wedding picture shoot two to three months before your wedding. As a result you may be entirely at ease and authentic in front of the camera in order to take exceptional wedding day images, it could be helpful for your photographer to determine your ideal postures and viewpoints. Pre-wedding sessions can also be thought of as a practice photography session to help you get ready for your big day. Additionally, it will help you get to know your photographer better and make you feel more at ease around them
 It helps you determine which photography genre best fits your personality.
You can choose the angles, locations, and postures that look best for you after viewing the pre-wedding images. You can decide on the kind of photos you want for your wedding. Whether candid, portrait, magazine, or another type. Modern wedding photographers put more of an emphasis on capturing the minute nuances of your big day. Therefore, a pre-wedding session will let you gauge your photographer's skill level.
You acquire extra images to supplement your wedding memories.
Pre-wedding shoots are for those who want good pictures of togetherness; without the hassles of the heavy wedding attires, makeup, ornaments, umpteen number of people around, and the annoying selfies.  
Pre-wedding photography allows both partners to get to know each other better. You are free to pose or not to pose. 
Pre-wedding shoot photographers are intent on capturing natural moments, expressions, and real emotions shared by the couple. Such pictures make your album more vibrant.
Embrace pre-wedding images in your invitation or as a presentation at your sangeet or wedding celebration. You can include a printout of your engagement images on your wedding invitation card or exhibit a slideshow of them at the wedding reception, Sangeet, or the exclusive Sufi Night. At dinnertime, let your guests see the slideshow.
Put romantic pictures of you two on the walls of your home.
The pre-wedding photo shoot yields a number of beautiful pictures. They can be used as wall decorations in your space. They will stand apart from the other wedding photos you typically have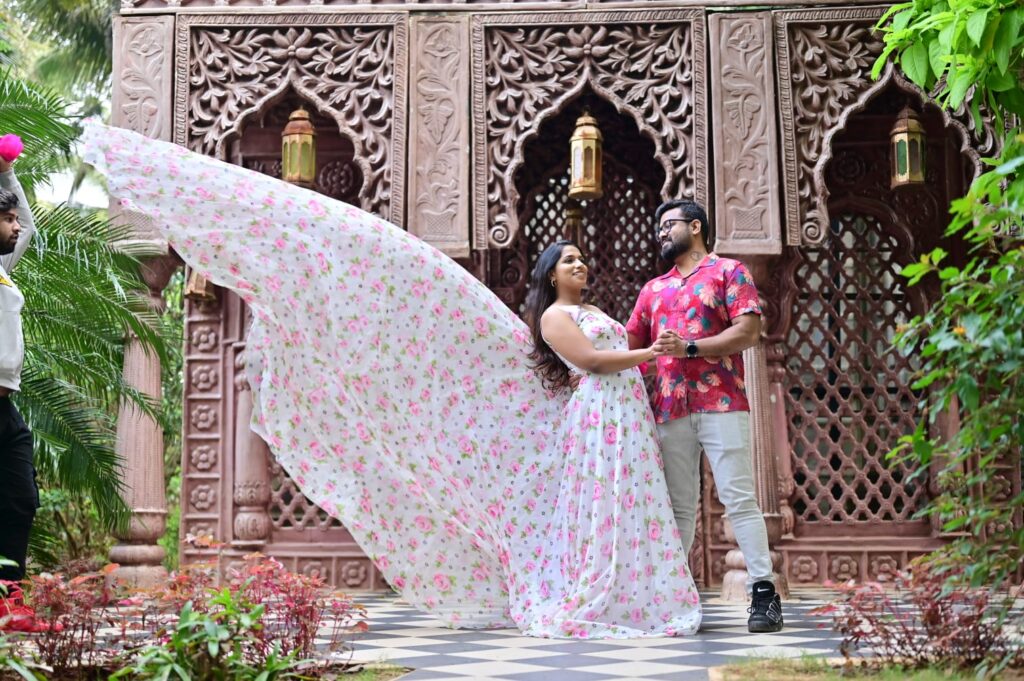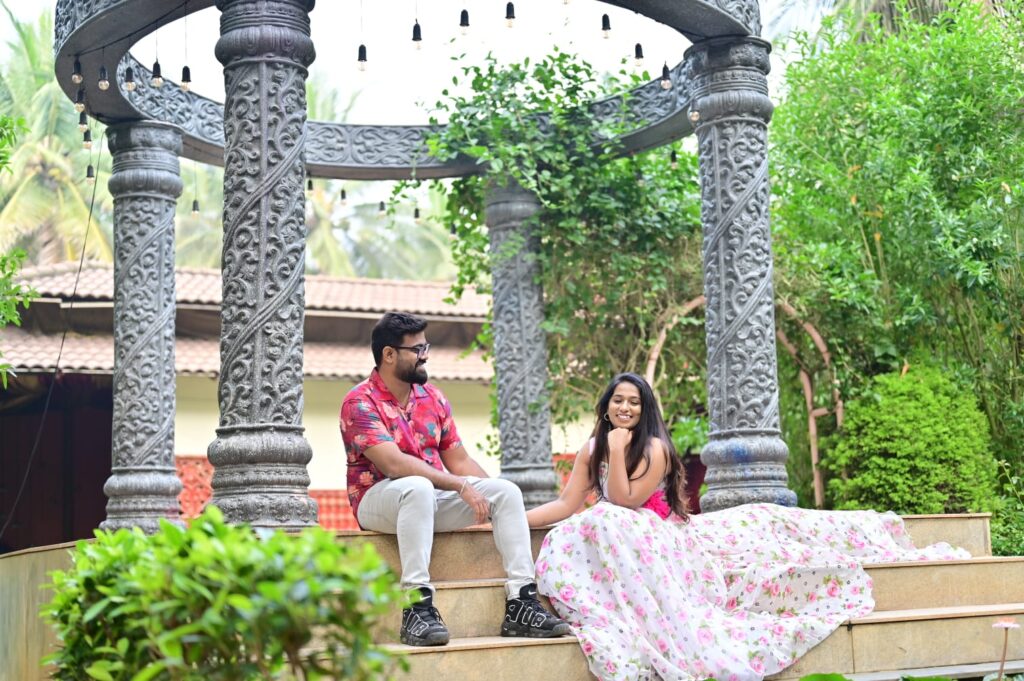 Here is a list of a few outfits for the pre-wedding photo shoots.
1.Long Tail Gown,
Unquestionably a timeless addition to any wardrobe, long-tail gowns. Additionally, choose a long-tail gown for the most beautiful outdoor pre-wedding shots.
2. Flowy Dresses
These flowing dresses have a jazzy appearance and can provide the best photographs, which you will treasure for the rest of your life. Consider obtaining a flowing dress if you're having trouble deciding which of the numerous pre-wedding photography dress options to select. It will only make your pre-wedding images more dramatic.
3.Go Traditional
Pre-wedding photo session outfits like lehengas, anarkalis, dhotis, and crop tops work best.
If you want to create your own unique photoshoot gowns for occasions like graduation day, maternity photoshoots, and pre-wedding shots, visit the Shrusara Fashion boutique. Additionally, each outfit is made to your specifications and adjusted to fit your body type and personal style.
When you can rent, why buy?
Yes Shrusara Fashion provides a broad selection of customized designer gowns, long tail gowns, crop-tops, Indo-western dresses, and many more. The store is a bride's paradise. If you believe that renting your costumes is more affordable for your favorite events.
For three days and a total of 48 hours, it offers clothing rentals. Simply let us know in advance if you want to rent for longer.
Visit our blogs for additional engaging articles, advice, and suggestions on topics including Pre wedding shoot ideas and rental services.
Thanks for reading this blog
Shruthi Ajith B. Sc Fashion Design
Shrusara Fashion Boutique
Founder & Lead designer